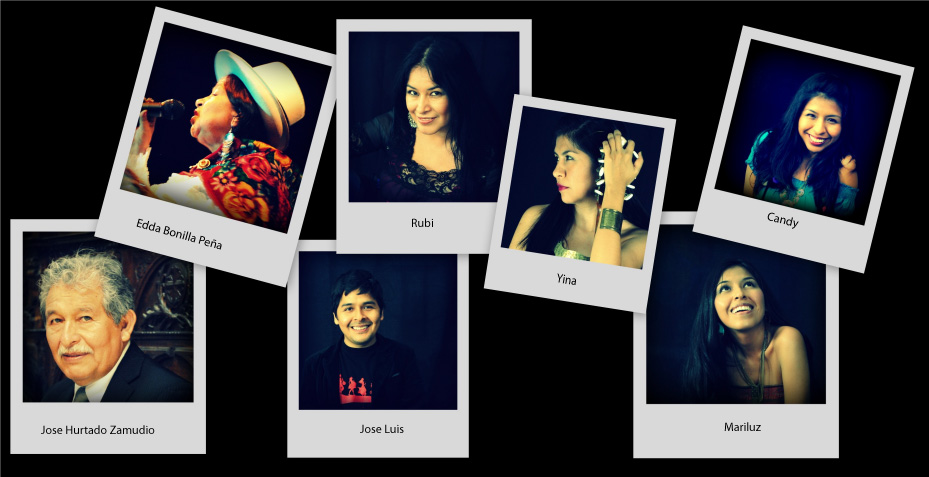 At the core of Kuyayky is a family that understands the importance of cultural awareness as a way to maintain and foster the social, political, cultural and economic development of humanity. Through our music we hope to contribute to the understanding of cultural diversity as a key to human development and peace.
Kuyayky's goal is to reach out to the world community through music, that is as innovative as it is traditional. Because of this, Kuyayky's music appeals to many distinct audiences. Their musical style has led them from local libraries to prestigious universities and performing arts venues around the world, allowing them to communicate messages of hope and unity through their music.

Edda Bonilla Peña Is a singer, educator, composer & dancer. Edda was born into a musical and artistic family. In the 1960's her vocal talent made her the lead singer of the Conjunto Alma Jaujina (the Yana Vicus, las Hermanitas Bonilla) who garnered critical and popular acclaim for their original compositions and soulful interpretations of mulizas, yaravies and huaynos. One of their recordings was later compiled by the Smithsonian series on the music of Peru "From the Mountains to the Sea". In her work as an educator Edda worked with children and the local communities of the Central-highlands for 26 years bringing forth Andean dance and music into the Curriculum. In the U.S. Edda obtained her Bachelor's degrees in Business Administration and Spanish Literature.
Jose Hurtado Zamudio Is an ethnomusicologist, composer, choir director, researcher, philosopher & dancer. Jose studied at the Santo Domingo Convent (Koricancha) in Cuzco Peru under the direction of the renowned composer Benigno Ballon Farfán. He continued his studies at the Pontifical Catholic University in Lima. After traveling throughout Peru, he returned to his hometown of Jauja at the age of 22 to focus on researching Andean music and culture. He taught at the Conservatory Of Music of Acolla, the Ecole Normale Superieure de Palean, the University of Huacho and the Universidad Del Centro among others. He is also a former Executive Director of the National Institute of Culture of Jauja. He is the Director of the Kuyayky Children's Orchestra Jauja and the founding director of Kuyayky Children's Orchestra Miami.
Rubi Indira Hurtado Bonilla, M.A. has degrees in Mass Communications and International relations and Global and Sociocultural Studies from Florida International University. She has had post-graduate Folklore studies at UC-Berkeley and an MA in Biology from Miami University in Ohio. Professionally Rubi is a national news Emmy winning producer for the top Hispanic television networks in the United States and Latin America. A former News Director of Noticias GenTV of Caracol TV. Rubi has formally studied musical theory, and guitar at Miami Dade College. Rubi is also a founding member and Vice Chair of the Global Indigenous Forum at Florida International University. As a life goal, she hopes to be a link to society's acceptance of a common humanity, without betraying its roots. She plays the acoustic guitar and sings.
Jose Luis Hurtado Bonilla, Ph.D.  holds a Ph.D.  in Computer Science at Florida Atlantic University, he completed his masters in Computer Science, also at FAU, and his undergraduate studies in computer science at FIU. Jose is currently a AAAS Science and Technology Fellow at the National Science Foundation, and has  experience as a Programmer and database administrator. Jose has become the epitome of persistence and hard work. Qualities that also become apparent in his diverse musical skills as a composer and an instrumentalist. He hopes to contribute to the spirit of this nation, based on cultural acceptance but also on the common quest for freedom of immigrants. He has received formal musical training from Miami Dade College. In Kuyayky he sings and plays several instruments including the guitar, tiple, and the mandolin and is the Director of the Kuyayky Chamber Youth Ensemble in Miami.
Yina Esmeralda Hurtado Bonilla, B.S. is a Computer Science graduate from Florida International University. And has post-graduate studies in Latin American History at Florida International University. Yina has her own company, Rocoto Design Studio, dedicated to design and development, and has served many start-ups and fortune 500 clients.  Yina is therefore very proficient with several design programs and a number of programming languages. Yina sees technology as a very important tool of communication, and hopes to gain knowledge in its use to improve the quality of life of others. In Kuyayky, Yina plays the charango, el cuatro, and sings.
Mariluz Hurtado Bonilla, M.A. has a Master of Arts Degree in Museology from Kingston University in London. She has an undergraduate degree in Sociology & Anthropology from Florida International University. Mariluz has also spent many years studying Architecture, a field that has led her to explore the fine arts, as well as fashion design as she experiments with a unique artistic style that combines religious icons with social issues.  She is also interested in Latin American Literature as she sees in it a mirror to Latin American Society. Mariluz currently works as free lance graphic designer and costume designer for theater and fashion. In Kuyayky, she plays the woodwinds including the quena and siku, el cajon and sings.
Candy Hurtado Bonilla, P.h.D. has a doctorate in Comparative Studies – Andean ethnomusicology and choreology from Florida Atlantic University.  She is a Fulbright DDRA Dissertation Scholar.  Candy also holds a Master of Arts Degree in Latin American Studies with a concentration on democratic and social development and culture, and a  Bachelors Degree in Political Science, Economics and International Relations from Florida International University. She is a Ph.D. Candidte  in Comparative Studies, Andean Studies and Andean ethnomusicology at FAU. Candy also has formal studies in painting and communication design. She has worked as a talent-management Senior Associate at two of the top global consulting firms specializing in Latin America and Europe and as a researcher and communications professional in academia. Candy is the Executive Director of the Kuyayky Foundation and currently teaches Spanish Language and Culture, literature, Andean music and dance, and Latin American Studies at FAU. Candy understands the importance of maintaining a strong link with our cultural roots in a society where assimilation tempts us to lose our identity. In Kuyayky, Candy is the group's percussionist, and sings.