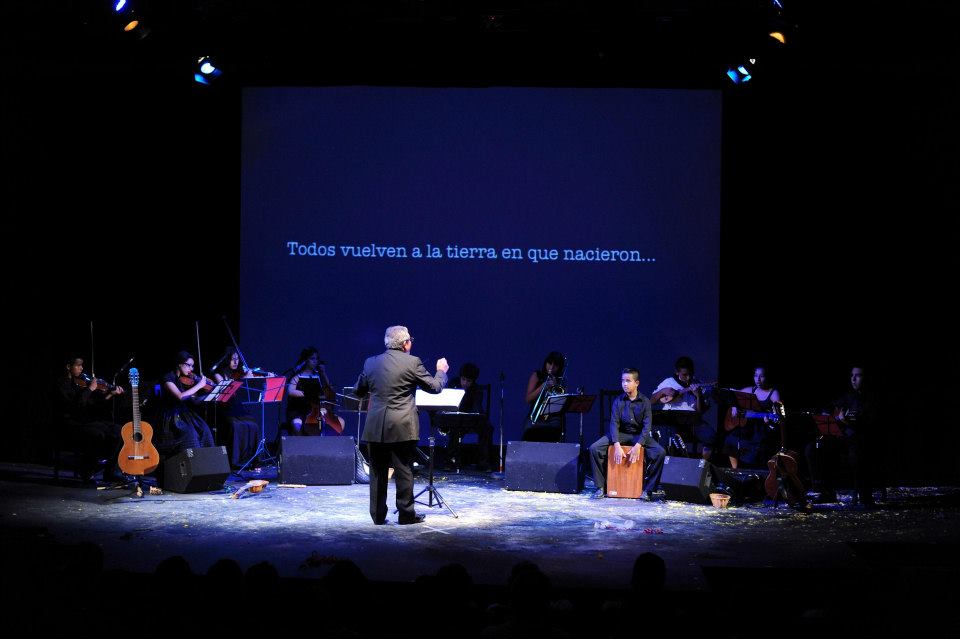 [divider]
The Kuyayky Children's Orchestra (KCO) is formed by children, between the ages of 7 and 18, who play
traditional, classical, and original arrangements of Andean music with violins, violas, cellos, trombones, cajones,
tinyas, saxophones, pianos, guitars, mandolins, and charangos. There are currently two KCOs, one in Miami (United States) and a pilot project in Jauja (Peru).
[divider]
Jose Hurtado Zamudio founded the Kuyayky Children's Orchestra in South Florida in 2011 as a way to showcase the complexity
and beauty of Andean music to to both new audiences and to new talents (instrumentalists, arrangers, composers,
and directors). The repertoire of the orchestra which includes researched arrangements of yaravies, huaynos,
kashuas, mulizas, huaylarshs, and valses criollos, encourages the classical music study of traditional and Andean
tunes and the recognition of Andean musical masters such as Zenovio Dhaga by a wider public.
[divider]
In South Florida the orchestra provides children of Latin American roots with a way to connect with their ancestral heritage
and build their identity through music. The project provides private musical instruction and ensemble
instruction as well as guest master classes by Andean musical masters. Kuyayky is devoted to the equalizing
role of music in society, therefore a great majority of the children that encompass the orchestra come from
low-income immigrant segments.
[divider]
The New Kuyayky Children's Orchestra of Jauja
Helping children in the Andes reach their potential through music! #KCOJauja
[divider]
On July 2014 we began a pilot orchestra in Jauja. Our goal is to fully implement a Children's Orchestra in Jauja-Peru, a small city high in the Andes with a central location for many local indigenous and mestizo communities. Because of an unplanned centralization, the children, in and around Jauja today, are vulnerable to crime and poverty. Through this project these at-risk children will receive formal music training completely free of charge, that is combined with a method of learning that focuses on their own indigenous musical traditions, while at the same time exploring classical and world music masterpieces. Understanding the equalizing role of music in society, this focus, will allow them to celebrate and recognize their own cultural heritage, since connecting them with their roots, will in turn help them improve their self esteem, build their identity and acquire skills for the future. We need the funding to buy musical instruments (violins, cellos, quenas, charangos, saxophones,guitars, mandolins, etc…), pay for airfare, rent classroom space, hire teachers, buy classroom materials, stipends for master classes' instructors, etc. Our experience forming a similar children's orchestra in Miami shows us that this is not only possible, but necessary, especially in a place like Jauja were children are more than eager to learn. Our pilot project in Jauja is showing us this. As an ayllu, for us music has been an integral part of our support system, a definite factor and an inspiration in developing our diverse careers in fields such as Computer Science, Anthropology, Journalism, Music, etc. It is our understanding and concern that not only are ecosystems and other animal species endangered or fully depleted around the world, but also the traditional knowledge of human groups, that is often harbored and best expressed by their music. The continuing practice of these endangered musical traditions by these children is therefore fundamentally important in ensuring that knowledge is not lost.